June 20, 2021, 6:06 AM EDT
Tesla Model S crashed, and inspected by veteran Chief Palmer Buck of The Woodlands Township Fire Department in suburban Houston, who compared to "a trick birthday candle.
On April 17, when firefighters responded to a 911 call at around 9:30 p.m., they came upon a Tesla Model S that had crashed, killing two people, and was now on fire.
They extinguished it, but then a small flare shot out of the bottom of the charred hulk. Firefighters quickly put out those flames. Not long after, the car reignited for a third time.
"What the heck? How do we make this stop?'" Buck asked his team. They quickly consulted Tesla's first responder guide and realized that it would take far more personnel and water than they could have imagined. Eight firefighters ultimately spent seven hours putting out the fire. They also used up 28,000 gallons of water — an amount the department normally uses in a month. That same volume of water serves an average American home for nearly two years.
By comparison, a typical fire involving an internal combustion car can often be quickly put out with approximately 300 gallons of water, well within the capacity of a single fire engine.
As the popularity of electric vehicles grows, firefighters nationwide are realizing that they are not fully equipped to deal with them. So they have been banding together, largely informally, to share information to help one another out. In fact, Buck recently spoke on Zoom about the incident before a group of Colorado firefighters.
That's because the way that electric vehicles are powered triggers longer-burning fires when they crash and get into serious accidents. Electric cars rely on a bank of lithium-ion batteries, similar to batteries found in a cellphone or computer. But unlike a small phone battery, the large batteries found in the Tesla Model X, for instance, contain enough energy to power an average American home for more than two days.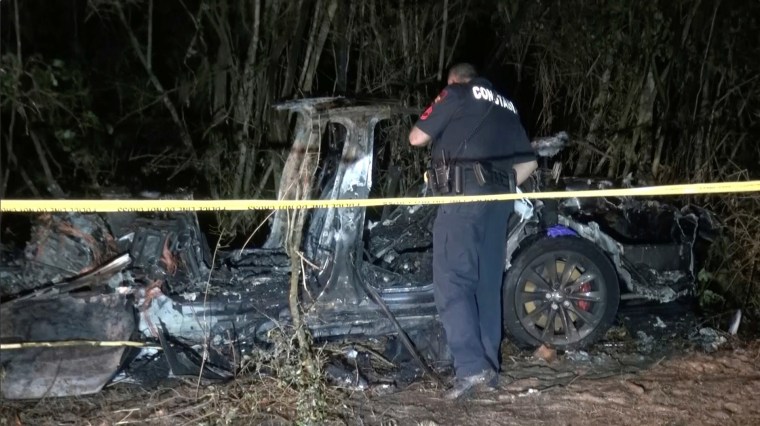 So when an electric vehicle gets in a high-speed accident and catches on fire, damaged energy cells cause temperatures to rise out of control, and the resulting blaze can require a significant amount of water to put out. Such vehicles, given their large electrical energy storage capacity, can be a considerable hazard, known as "stranded energy," to first responders.
But training to put out these fires can't come fast enough as more electric vehicles arrive on U.S. roads every day. According to IHS Insight, an industry analysis firm, the number of registered electric vehicles reached a record market share in the United States of 1.8 percent and is forecast to double to 3.5 percent by the end of this year. But IHS notes that 1 in 10 cars are expected to be electric by 2025.
Still, most firefighters across America have not been adequately trained in the key differences between putting fires out in gas and electric cars. Some counterparts in Europe have developed a different approach, sometimes even putting a burning electric vehicle into a converted shipping container or dumpster — essentially giving it a bath — so that it cannot do further harm. Tesla says in its publicly available first responders guide that this method is not advisable and that departments should just use lots of water to put fires out.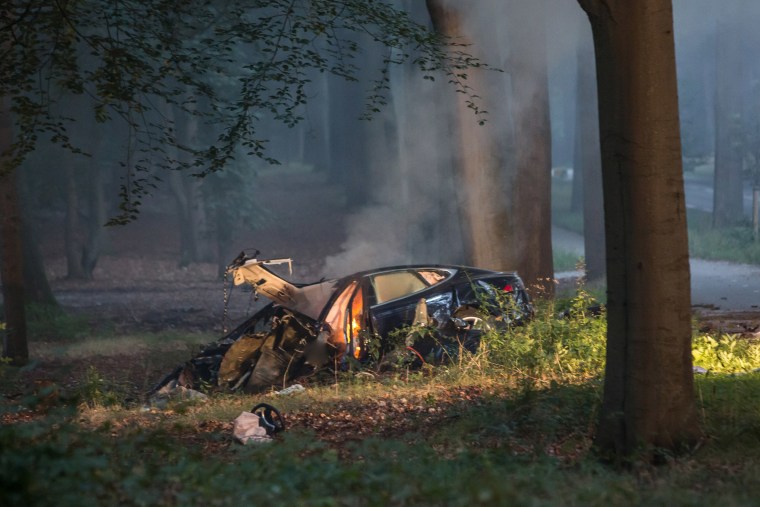 The problem has become widespread enough that late last year the National Transportation Safety Board published a report noting the "inadequacy" of all car manufacturers' first responder guides. The agency further noted that while there are electric disconnection mechanisms, known as "cut loops," they are often damaged in serious crashes. Finally, the NTSB also said that first responders generally lack an understanding of how to put out fires that can result from such crashes.
"The instructions in most manufacturers' emergency response guides for fighting high-voltage lithium-ion battery fires lack necessary, vehicle-specific details on suppressing the fires," the NTSB said
But there's little that the board can do to fix the problem.
"We do not have any regulatory power, we do not have any enforcement power," said NTSB spokesperson Eric Weiss, pointing out that such authority sits with the National Highway Traffic Safety Administration, or NHTSA.
In an email, Lucia Sanchez, a spokesperson for the safety administration, said that this topic remains important for the agency, one that it is "actively engaged in with our stakeholders including members of the first responder community." In recent correspondence with the NTSB, the regulatory agency said that it continues to conduct research on "developing practical strategies for responders."
Tesla, the largest electric-vehicle seller in the United States, did not respond to requests for comment about the NTSB report. But Capt. Cory Wilson, a 14-year veteran of the fire department in Fremont, California, where all U.S.-made Teslas are manufactured, said that Tesla has worked directly with his department for the past eight years. Still the best advice that Wilson gave was to advise firefighters to print out and keep Tesla safety guides in their trucks.
"Tesla has done a good job trying to get first responders educated," he said.
Benedikt Griffig, a Volkswagen spokesperson, said in an email that German firefighting authorities have largely reached the same conclusion as their American counterparts, noting that they, too, may need considerable volumes of water to put out such a fire. Nissan spokesperson Ashli Bobo declined to respond to questions, but pointed to the company's publicly available first responder guide. David McAlpine, a General Motors spokesman, said the company has actively worked on providing guidance for first responders working with electric vehicles and that "General Motors is committed to developing products that are safe and enjoyable for all our customers." Ford did not respond to requests for comment.
Recent discovery
While the first Tesla vehicles hit American streets in 2008, the National Transportation Safety Board did not investigate its first electric-vehicle battery fires until after an Aug. 25, 2017, crash of a Tesla Model X. That car was driving an estimated 70 mph or more down a residential street in Lake Forest, California, about an hour's drive southeast of downtown Los Angeles.
According to the NTSB, the driver lost control of the car, crossed a sidewalk, traveled down a drainage ditch, hit a culvert and a property wall, and finally zoomed into an open garage and collided with a parked BMW, narrowly missing a man inside.
The Tesla caught fire, which spread to the BMW, then the garage and the house itself.
While Orange County Fire Authority's firefighters put out most of the fire within 20 minutes, they found that a fire continued to burn in the attic above the fire, fueled by the burning Tesla. It took another 30 minutes for them to get the Tesla out of the garage, after which it reignited.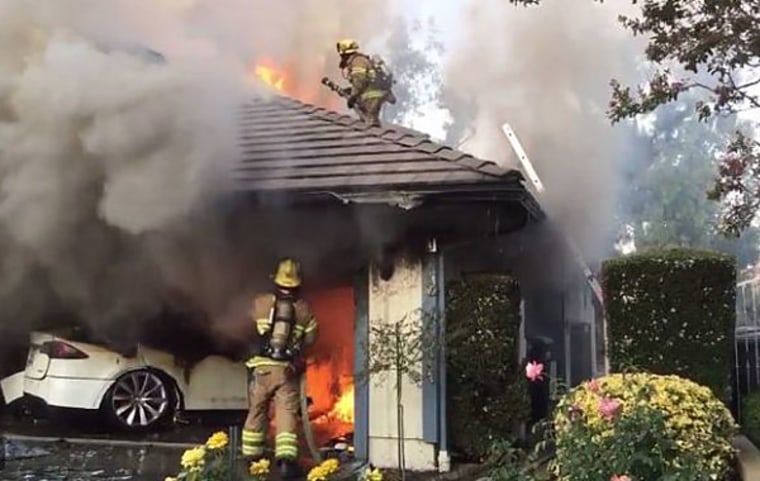 But 45 minutes after the flames on the Tesla were extinguished, it reignited again. Firefighters began hosing it down with copious amounts of water, up to 200 gallons per minute, but "that did not extinguish the flames," according to the NTSB. At approximately 9:13 p.m., nearly three hours after the first alarm was received, firefighters had to pour out more than 600 gallons of water per minute. In the end, two firefighters sustained minor smoke inhalation-related injuries, and the agency used 20,000 gallons of water.
Capt. Sean Doran, the spokesperson for the Orange County Fire Authority, said that electric vehicle-related fires are a "game changer," given that they require such huge amounts of water, and incidents can last hours longer than what most departments may be used to.